Beware I don't have the opportunity to be in the dome to this specific event to give the review. If you are interesting there are some clarification at the end. Enjoy!
Cuidado! Yo no estuve presente en el waku waku, asi que al final del post estan las aclaraciones que creo necesarias. Disfrutalo!
(Credits: the collage pictures belongs to QQ user. Watermark on the pic )
(
Español + Screencaps
Collapse
)

¡Creo que esta versión 2017 es la más sexy de Waku Waku! No sólo por la presencia de los miembros de Sexy zone, Jajaja.
El tema de este año fue la educación física y cada arashi tiene diferentes lecciones
Ohno-sensei - ¿Por qué lloran los humanos? Los efectos de las lágrimas
Sakurai-sensei - Pensemos en la masculinidad y la feminidad
Aiba-sensei - Tomemos un gusto por los deportes de Aiba-sensei
Ninomiya-sensei - La base del ser humano es la excreción de todos los días
Matsumoto-sensei - Hagamos amistad con el nerviosismo

Al principio no sabía que pensar, pero los primeros informes de Osaka me mostraron de qué se trataba.
Jun
enseñar a aliviar el estrés y algunos ejercicios como bailar a.r.a.s.h.i. Él muestra algunas situaciones de estrés puede modificar el rendimiento de diferentes cosas como hablar en público (él elige a una persona de la audiencia) o tocar la flauta (él elige un miembro arashi). MJ muestra que el estrés por el miedo a la altura puede convertir un lío su rendimiento de flauta. En esta sección en Osaka cantaron el feliz cumpleaños de Nino.
Ohno Sensei habló sobre las lágrimas y lo útiles que son para los ojos. Habla sobre el sentimiento y cómo llorar te hace sentir bien. Se puso a sí mismo como ejemplo: cómo se sentía y lloraba cuando cantaba Miles away (Osaka) y el concierto del 15 aniversario Still (Tokio). (Edit: no encontré ninguna foto sobre Ohno y su leccion hay un poco en los videos que andan en streeming)
Nino
sensei: Contó con la colaboración de los miembros Sexy zone. Enseña cómo las comidas pueden modificar el hábito de ir al baño. Los miembros del arashi muestran la rutina diaria y actúan como defecan (Osaka: Sakurai y Tokyo Aiba + Jun).
Luego los miembros de Sexy Zone mostraron la función interna de los intestinos (aquí Kento fue la estrella).

Aiba sensei muestran lo útiles que pueden ser los deportes. Los deportes pueden dar forma al cuerpo y nos hacen más felices. Las sociedades pueden crear los deportes más extraños como correr llevando a su propia esposa, sólo por diversión. Decidieron jugar una carrera entre Arashi y Sexy zone.
En Osaka jugaron una carrera con patines y un juego de saltos en Tokio (lo siento, no tengo demasiada información sobre esto) y también un juego sobre stretching (algunos reporteros sólo cubrieron la parte que tocaron así que no puedo tener la función real de este juego)
Sakurai
seisei enseñó sobre feminidad y masculinidad. Demostrando que hay algunas diferencias biológicas como el tono grave de la voz, manzana de adán, análisis de sangre, anticuerpos de sangre y cosas por el estilo. Hay una cierta diferencia en el comportamiento también. Pero los trabajos y tareas no hacen a las mujeres más masculinas (como practicar wresteling) y algunas otras tareas no hacen al hombre más femenino (como cuidar a su propio hijo)
Para Osaka llevaron a Kyoko Hamaguchi (Bronze, Beijin 2008) como ejemplo. Ella jugó a pulseadas con Jun, y el perdió.
Después Sho explicó que las mujeres tienen un mejor sentido del olfato que los hombres. Le preguntó a la invitada sí podía oler a tres participantes cubriéndose los ojos. (Esta parte no tengo una explicación única, pero parece que quieren saber que ella tiene que buscar un olor específico) y Kyoko en Osaka compió contra un luchador pro wresterler retirado. Los dos participantes tienen que oler a Ohno y a un miembro de Sexy Zone (y Jun participó en el segundo día). Kyoko dijo que Satoshi olía melón para el primer participante y con su respuesta ganó.
En Tokio Sakurai trae a Saori Yoshida. Primero jugó sumo con los miembros de Sexy Zone (cambian entre las fechas). Por lo tanto, los juegos cambian un poco de la performance en Osaka. Ella tenía que oler a dos miembros de Arashi y a un miembro de Sexy Zone y elegir el más oloroso y el inodoro. La primera fecha entre los olían eran: Aiba, Nino y Shiori. El segundo día fue Jun, Nino y un miembro de Sexy Zone (los informes no tienen el nombre). Y el último eran Nino, Ohno y Marius.

Algunas aclaraciones:
Para mí fue muy difícil encontrar los informes en japonés y no he visto un informe en inglés todavía. Algunas partes que traduje de lo que he oído, mi japonés es muy horrible pueda que interprete mal algunas partes como el juego de saltar cuando gritan todos juntos! también hay alguien que los dirige en inglés y después lo traducen al japones que lo hace todavía mas difícil.
En segundo lugar, las actuaciones fueron 3 en Osaka (17/8 11:00 hs y 18/8 11:00 y 18:00) y 3 en Tokio (a la misma hora de lo que se habia dado en Tokio) el órden de las lecciones estaban cambiando continuamente y los participantes de los juegos también.
Tercer tema: Hasta donde yo sé, algunos fans japoneses estaban enojados por ciertos juegos y no cubrieron esa parte en sus reportes. Los más criticados eran el juego de la lección de Sakurai, así que si no se hubiese mostrado en la televisión nunca podríamos entender de que se trataba el juego.
No entiendo a los fans que se molestan por el juego del olfato. Es solo un juego. Juego divertido y sexy, como muchos programas de televisión de Arashi.
Quiero decir que antes tenía un mal sentimeitno sobre esto, pero ahora tengo que decir que hacen un gran trabajo.
A pesar de esto, estoy un poco decepcionada por la falta de DVD para este evento. Y realmente espero que Arashi haga algo diferente para aliviar los desastres naturales, como por ejemplo un evento más caritativo.


Al final del evento, Sho anunció las fechas del nuevo tour. Estan disponibles en la Jweb.


(Edit: me tomó mucho tiempo terminar el post porque quería mostrar algunas fotos raras que habia encontrado. Hay otras mas pero estan muy repetidas en otros redes sociales)
(
english text
Collapse
)
I think this 2017 version is the most sexiest Waku Waku ever! Not only for the presence of the sexy zone members. LOL
The topic this year was Phisical education and each arashi has different lessons
Ohno-sensei - Why do humans cry? The effects of tears
Sakurai-sensei - Let's think about manliness and femininity
Aiba-sensei - Let's take a liking to Aiba-sensei's sports
Ninomiya-sensei - The basic of human beings is every-day's excretion
Matsumoto-sensei - Let's befriend nervousness
At first I did not know where to start looking but the first reports from Osaka showed me what it was about.
Jun teach how to relief the stress and some exercises like dancing a.r.a.s.h.i. He shows some stress situations can modify the performance of different things like talking in public (he choses a person of the audience) or playing the flute (he choses an arashi member). MJ shows that the stress for the fear of height can turn a mess your flute performance. In this section they sang the Happy birthday for Nino.
Ohno Sensei talked about the tears and how useful are for the eyes. He talk about the feeling and how cry make you feel good. He put himself as example: how he felt and cried when he sang miles away (Osaka) and the 15th anniversary concert.
Nino: He asked for collaboration the sexy zone members. He teachs how the meals can modify the habit to go to the bathroom. The arashi members show the daily routine and acting like he defecate(osaka: Sakurai and Tokyo Aiba and Jun). Then the Sexy zone members show the intern function of the bowels (here Kento was the star).
Aiba sensei show how useful can be the sports. The sports can shape the body and make us happier. The societies can create the most weird sports like running carrying your own wife, just for fun. They set up the race between arashi and sexy zone. They played a race with skates in osaka and a jumping game in Tokyo (sorry, I haven´t too much information about this) and the game about stretching (some reporters just covered the part they touched so I cant have the real function of this game)
Sakurai seisei teach about femmity and masculinity. They show there are some biological differences like the low tone of the voice, adam's apple, blood test, blood antibodys and things like that. There are some difference about behavior too. But the works the females do doesn´t make us more masculine (like play wresteling) and some other works does´t make the mans more femmenine (like nursing your own child)
For Osaka they bring Kyoko Hamaguchi as example. She played arm-wrestling with Jun, and he loosed. Then Sho says women have better smell sense than men. He asked the guest if she can sniff three participant covering her eyes. (This part I don´t have an unique explanation but seems they want to know she have to look for an specific smell) and she played against a retired pro wresterler. The two participans have to smell Ohno and a sexy zone member (and Jun participate in the second day). She said she smelled water melon for the first participant (Ohno) and with her answer she won.
In Tokyo Sakurai brings Saori Yoshida. She played sumo with the Sexy zone members (they change between the dates). So, the games changes a little from the perfromance in osaka. She have to smell two arashi members and a sexy zone member and choose the most odor and the odorless. The first date the smelled ones were: Aiba, Nino and Shiori. The second one were Jun, Nino and a sexy zone members (the reports doesn´t have the name). And the last one were Nino, Ohno and Marius.
Some Clarifications:
For me was really difficult to find the reports in japanese and I haven't see an english report yet. Some parts I translate from I heard, my japanese it´s very awful so I can misunderstand some part like the game of jumping when they scream all together!.
Second one, the performances were 2 in Osaka (17/8 11:00 and 18/8 11:00 and 18:00) and 3 in Tokyo (8/7 y 9/7 in the same time at Osaka) the orders of the lesson were continuously changing. The participants of the games too.
Third issue: As far as I know some japanese fans were angry about certains games and they didn´t covered that part in their reports. The more criticized were the game of Sakurai's lesson, so if they didn´t showed in TV I could never understand.
I don't understand the fans being annoyed for the sniff 's game. It's just a game. Funny and sexy game, like in many tv show from Arashi.
I want to say I had have some bad felling about this, but now I have to say they do a great job.
Despite this, I´m a bit dissapointed of the lack of DVD for this events. And I'm really expect they do a different thing for the relief of natural disasters like more "charitable" event without too much fun.


At the end the presentation Sho annunced the new tour dates. The dates are already aviable in Jweb


(Edit: Wow! this took me so long to finish the entry, I want to share some rare photos I fund. It doesn´t mean my photos are unique they are credited already)
Current Location:

Kyocera Dome

Current Mood:

curious

Current Music:

Lucky Man
Puedo publicar esto rápidamente porque ahora mismo se conoce oficialmente sobre los cambios en el vsa.
Aunque este SP fue grabado el 14 de junio, la producción cambia al invitado en BABA, BORRAN la parte de Tsuyoshi Domoto.
En el episodio pasado, cuando VSA tiene la vista previa del episodio lo veo y algo parece estar desaparecido ... Supongo que sólo mostraron algunas partes de la BABA sólo para fines promocionales. Luego, en la misma semana en el programa de televisión de Tokyo, Koichi anunció la enfermedad de Tsuyoshi.
Ahora, todas las piezas estan juntas.
Pero, ¿la enfermedad de Tsuyo es tan grave que tienen que borrar su participación en un espectáculo? ¿Es un problema diferente de la enfermedad? Arashi y Tsuyoshi están en buenos términos?
Para mí, Johnnys no tiene buenas modales y crean dudas y difunden rumores. Demasiado mal Johnny san, demasiado mal!
Espero que los Jimusho tengan una explicación apropiada a esto.

La promoción antes
(
english text
Collapse
)
I post this quickly because I right now known officially about the changes in the vsa.
Although this SP was recorded on 14 jun, the production changes the guest in BABA, they ERASE the part of Tsuyoshi Domoto.
In the past episode when VSA have the preview of the episode I watch it and something seems to be missing... I guessed they only showed some parts of the BABA only for promotional purposes. Then in the same week in the Tokyo TV show Koichi annunced the illness of Tsuyoshi.
Now, all the pieces are together.
But, Is Tsuyo's disease so serious that they have to erase their participation in a show? It´s a different problem than illness? Arashi and Tsuyoshi are in good terms?
For me, Johnnys doesn´t have good maners and they create doubts and spread rumors. Too bad Johnny san, too bad!
I hope the Jimusho have a properly explanation to this.
Current Location:

chiba prefecture

Current Mood:

angry

Current Music:

regress of progress
(
Español + Pics
Collapse
)

Algunos de las tareas de arashi:
La semana pasada fue el anuncio del trabajo de las siguientes semanas. El miembro más activo, como de costumbre, Sakurai-San tiene casi una cita cada semana.
Mirá esto:
Los shows regulares:


VS嵐


櫻井・有吉THE夜会 (Sakurai, Ariyoshi THE Yakai)


天才!志村どうぶつ園 (Tensai! Shimura Dobutsuen)


嵐にしやがれ (ARASHI ni Shiyagare)


ニノさん (Ninosan)


相葉マナブ (Aiba Manabu)


貴族探偵 (Kizoku Tantei) hasta el 26 de junio.


NEWS ZERO


グッと!スポーツ gutto sports


Y los dos programas de Nino y Aiba.


Tienen las presentaciones de:
(algunas consideraciones personales también)
Waku waku school 17/6 y 18/6 Osaka. 8/7 y 9/7 Tokyo.
Me gustaria que pasaran este tipo de eventos en la TV. Otra vez con Sexy Zone, lo hace un poco aburrido (y que tal con otros grupos como Kis my Ft2). No es lo mío (quizas por eso de que no lo pasan en la tele, quizas sea todo el concepto. nose)

Tsunagu single lanzamiento en 28/6 (podría haber algun tipo de presentacion en music station o FNS, bueno eso espero)
Dije que me gusta ver a arashi un estilo tradicional japones?. Quizas no sea muy arriesgada la produccion de la portada, porque se parece a japonism y love. Espero si o si la presentacion en vivo por ahora, me gusta mas el track que la portada. Lo que da el veredicto final es la presentacion en vivo.

Music Day 7/1. Sakurai es el MC.
En el 5° aniversary del music day. Otra vez estan los chicos, espero una buena presentacion como de costumbre. Me pregunto por la Johnnys meddley porque dos grupos estan de cumpleaños, que lugar ocupa arashi en eso. (Por otro lado, Sho se ve fantastico en la publicidad).
24 hs television (Sakurai- Kame y Koyama). 26/8
El que diseña el logo este año es el mismo que hizo el logo para Tokyo 2020. Asi que nos perdemos la habilidad de Sho para dibujar (?).
Algo que me sorprendió es que usaron un concepto similar al Johnnys film festa del 2013 y lo dicen como si fuera una novedad. Que pasó Johnny san, se quedó sin ideas?
Va estar interesante, sobre todo la dupla Sho - Kame. Voy a tratar de verlo en vivo.

Los nuevos anuncios:


"忍びの国" (Shinobi no kuni). premier el 1° de julio 2017. Ohno satoshi


"先に生まれただけの僕 (Saki ni Umareta dake no Boku)". Empieza en Octubre con Sho Sakurai como Ryosuke Narumi. [dorama]


"ナラタージュ" (Narratage) Premier 7 de Octubre de 2017. Jun Matsumoto


"ラストレシピ ~麒麟の舌の記憶~(last recepie, kirin no shita no kioku) Premier 3 de Noviembre de 2017. Kazunari Ninomiya


99.9―刑事専門弁護士― SEASON II (99.9 -Keiji Senmon Bengoshi- SEASON II). Empieza en Enero 2018 con Jun Matsumoto como Hiroto Miyama. [dorama]


"検察側の罪人"(Kensatsugawa no Zainin). Premier en el final de 2018. Kazunari Ninomiya [ni siquiera empezo la filmación]


(
english text (images are in spanish section)
Collapse
)
Some of schedule for arashi:
The past week was the announcement of the work of the following weeks.
The busiest member, as usual, Sakurai-San has almost an every week appointment.
Check this:
The regular shows:


VS嵐


櫻井・有吉THE夜会 (Sakurai, Ariyoshi THE Yakai)


天才!志村どうぶつ園 (Tensai! Shimura Dobutsuen)


嵐にしやがれ (ARASHI ni Shiyagare)


ニノさん (Ninosan)


相葉マナブ (Aiba Manabu)


貴族探偵 (Kizoku Tantei) until jun 26th.


NEWS ZERO


グッと!スポーツ gutto sports


And the two radio shows by Aiba and Nino.


They have some live presentation in the following months:
Waku waku school 17/6 - 18/6. 8/7 - 9-7 at Tokyo Dome.
I wish they aired on tv this kind of events. Again with Sexy zone, make it boring (what about Kis My ft2?). Really, isn't my thing.
Tsunagu relase on 28/6 (we can expect some music station or FNS presentation)
Did I said I like to see arashi a traditional Japanese style ?. Perhaps the production of the cover is not very risky, because it looks like japonism and love. I hope if or if the live performance for now, I like the track more than the cover. What gives the final verdict is the live presentation. Only the live presentation gives the final verdict.
Music Day 7/1. Sakurai is the MC.
In the 5th aniversary of music day. Again the boys, I expect a good presentation as usual. I wonder the place of arashi in the Johnny meddley because two groups have their anniversary. (On the other hand, Sho looks fantastic in advertising).
24 hs television with Sakurai as one of the main person. 26/8
The logo will be draw by the same artist of the Tokyo 2020 logo. So we'll miss the awesome drawing skills of Sho. Something has surprised me, they used similar concept in Johnnys film festa. What happened Johnny- san you ran out of ideas?. Will be interesting, Kame is a good partner. I'll try to watch it live.

The new announcements:


"忍びの国" (Shinobi no kuni). Release Date: July 1, 2017. Ohno satoshi


"先に生まれただけの僕 (Saki ni Umareta dake no Boku)" Starts in October with Sho Sakurai as Ryosuke Narumi. [dorama]


"ナラタージュ" (Narratage) Release date on October 07, 2017. Jun Matsumoto


"ラストレシピ ~麒麟の舌の記憶~(last recepie, kirin no shita no kioku) Release Date on November 3, 2017. Kazunari Ninomiya


99.9―刑事専門弁護士― SEASON II (99.9 -Keiji Senmon Bengoshi- SEASON II). Starts January 2018. With Jun Matsumoto as Hiroto Miyama. [dorama]


"検察側の罪人"(Kensatsugawa no Zainin) Relase date in the ends of 2018. Kazunari Ninomiya [it doesn't even start shooting]


Current Location:

Tokyo Dome

Current Mood:

anxious

Current Music:

Daylight
yanie02
at
Iijima Michi ~SMAP's Mother~
Since Mary vs Iijima has become the talk of the town lately. I'm guessing some non-Smappies or new Smappies are wondering who she really is. How can an outsider have such a power inside the Jimusho, that even "the Empress" and "the Princess" scared of? I'll try to make a brief introduction.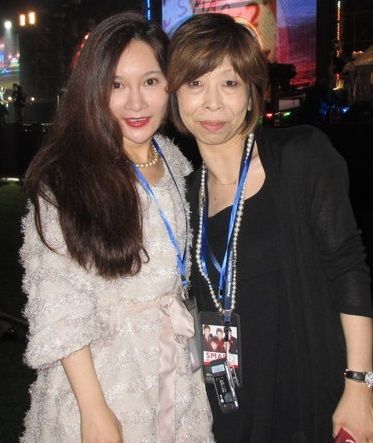 Iijima Michi is the lady on the right.
(
Read more...
Collapse
)



THIS POST WAS MADE FOR SCIENCE PURPOSES... reflect the history of JE and the future of Arashi as JE group.




ESTE POSTE SE HIZO PARA LOS PROPÓSITOS DE LA CIENCIA ... reflejan la historia de JE y el futuro de Arashi como grupo JE.



Originally posted by
Current Mood:

energetic

Current Music:

Natsu- Kimutaku
(
Español+ Screencaps+ Gif
Collapse
)
En la universidad Meiji daban un curso sobre los arashi (en serio!), jaja parece que desde que empece en el fandom ya lo aprobe... tendría que pedir el diploma, no?
Anunciaron la pelicula de Nino y Kimutaku en los primeros días de mayo, yo pienso que para entender un poco mas la trascendencia de esto es necesaria una mini clase de JE.
Personalmente, la película "Kensatsugawa no Zainin" tiene una buena trama: todo depende del guión y de la actuación (es el punto fuerte de estos dos). La película tiene la fecha para mostrarse en 2018.

Para un estudio profundo estan las páginas de Wikipedia sobre SMAP y Kimura Takuya, pero quiero hablar de algunas impresiones y sentimientos que no reflejan en estas páginas.
La
Johnny Jimusho
ha sido dividida en dos áreas de gestión hasta enero de 2016. Estas áreas de gestión se llamaban facción en las revistas de rumores.
Iijima Michi,
(zona sexy de SMAP y Yamapi) y
Fujishima Julie Keiko
(Arashi, kanjani, HSJ), la primera dejó en enero de 2016 y fue el comienzo de la disolución SMAP. Las fans especularon alrededor de una "colaboración prohibida" entre estas facciones y los grupos más grandes de cada facción eran la prueba. Desde el crecimiento en la popularidad Arashi en 2007, el colaboración con SMAP fue más difícil. Nunca invitaron a Arashi SMAPXSMAP, también Arashi nunca ha invitado a SMAP en sus shows.

Arashi y Smap en la TV:
-Ellos fueron invitados en utaban el show de Nakai desde 1999 hasta 2009 (los episodios de nakai vs ohno).
- Ohno era un backdancer para el espectáculo de SMAP en Tokio y algunos dicen en Kioto también. (parece que no hay imagenes de eso solo una pequeña entrevista)
- Sakurai y Shingo estubieron juntos en el dorama "Tousan" SP dorama para FNS 27hs MC por Nakai
- Han compartido al menos 5 MS hasta 2013 y algunos FNS. Fueron juntos para NHK Kohaku durante 2009 hasta 2015.
- Nino siempre dice que quiere actuar como Kimura. Y se define como su estilo de actuación como el estilo Kimutaku. Tocó y cantó Natsu (Kimutaku solo en el concierto del 2000).

Conclusión: Sí, la guerra entre dos facciones parece haber terminar. Nino tiene la mejor oportunidad de trabajar con el sempai que admira. Realmente tienen una relación personal diferente de los planes de los directivos cada facción.
(
English text
Collapse
)
I heard in that in Meiji University were a course of "Arashi Studies" (no kidding). Haha! I think already I passed them.
The announcing of the movie of Nino and Kimutaku needs some history class to really understand the trascendence of this.
Personally, the movie "Kensatsugawa no Zainin" has a good plot: all depends in the script and the acting (it's the strong point of these two). The movie has the date to be show in 2018.
For a deep study are the Wikipedia pages about SMAP and Kimura Takuya, but I want to talk about some things doesn't reflect on this pages.
Firts of all to all who doesn´t know:The Johnny jimusho has been divided in two managment areas until jan 2016. This managment areas were called faction in the rumour magazines. Lijima (SMAP sexy zone and Yamapi) and Mary (Arashi, kanjani, HSJ), the first one quit in jan 2016 and was the begining of the SMAP disbandement. Fans were speculating arround the forbiden collab between this factions and the biggest groups of each faction were the proof. Since the growth in Arashi's popularity in 2007, the collab with SMAP were more difficult. They never has arashi like guest in SMAPXSMAP, also arashi has never invited SMAP in their shows.
In the Arashi side:
-They were invited in utaban the show of nakai since 1999 until 2009 (that wonderful episodes of nakai vs ohno).
- Ohno was a backdancer for SMAP show in Tokyo and someone says in Kyoto too. (sorry, there´s no image of that, just remain a little image of magazine)
- Sakurai and Shingo were together in the dorama "Tousan" SP dorama for FNS 27hs MC by Nakai
- They have shared a at least 5 MS until 2013 and a few FNS. They were togheter for NHK Kohaku during 2009 until 2015.
- Nino always says he wants to act like Kimura. And defines himself like Kimutaku style. He played Natsu (Kimutaku solo in 2000 concert).
Conclusion: Yes, the war between two factions seems to have ended. Nino has the best chance to work with the sempai he admires. They really have a personal relationship diferent of the plans of the managers of the faction.
Current Location:

Tokyo Tower

Current Mood:

creative

Current Music:

世界に一つだけの花, sekai ni hitotsu dake no hana
(
Español + Screencaps
Collapse
)

Los últimos VsA tienen la presentación del último single "I'll be there", en ese momento me di cuenta de que no he hecho un post sobre su música en mucho tiempo ... ¡qué vergüenza!
Esta vez, el post tiene una edición especial ...
Juegos Olímpicos...
En la web, diferentes compañías han estado haciendo encuestas sobre artistas que tienen que actuar en Tokio 2020.
Arashi ha hecho varias canciones para la cobertura olímpica de NTV desde que Sho está involucrado.


1- Hero (2004)
Era el single doble "Hitomi no Naka no Galaxy / Hero" para el dorama de Nino. Tener su propio PV. Las letras realmente hermosas, eran muy conmovedoras cuando lo cantaban en 24hs Televisión. De vez en cuando la cantan en algun tour, como en 5x10 y AraFes.
La tapa del CD era muy simple casi horrible.
Letras de canciones de: Spin music: Shin Tanimoto

2- Kaze no Mukō e "(風 の 向 こ う へ. 2008)
Otro single "double a side", Fue lanzado con "Truth". Tiene su propio pv, esta vez fue muy agradable, y tienen un sentido para cantar en el parque olimpico. Una hermosa melodia, buenas letras y una buenas voces. Definitivamente una de las mejores. Fue cantada en el 5x10.
Créditos: Shinya Tada (多 田 慎 也), Sho Sakurai Música: Pippi Svensson, Anders Dannvik.

3- "Yurase, Ima o" (揺 ら せ, 今 を 2010).
Para vancouver Olimpiadas era la tercera canción para NTV, en 2006 Sakurai no hizo una cobertura, era su primer año en NTV y era solamente cobertura del estudio.
Por lo tanto, es una imagen más parecida a los comienzos de Arashi. Las letras son motivacionales, pero personalmente no lo siento como una canción relacionada con los deportes o que se ajusta en el tema olímpico. Quizas sea porque no es vocalmente "prodigiosa".
Fue lanzado como b-side del single "Troublemaker". Se presentaron en la Music Station sin Sakurai (estaba en Canadá). La canción sólo se realizó esta vez, y no tiene PV. En el programa de radio de MJ, se pasó la versión completa.
Letras: 100+ música: 100+

4- Akashi (証 2012).
Realmente me encantó! Las letras, las armonías, ahhh coro !. Para se ajusta perfectamente, y tiene la fuerza y ​​el sonido para ser una canción para una película o un dorama.
La canción fue incluida en el álbum Popcorn, no tiene PV. Se realizó dos veces en Ichiban Song Show y Music Station (con Wild at Heart)

En 2013 la ciudad de Buenos Aires, el COI eligió a Tokyo como la sede de los juegos olimpicos del 2020.



5- "Road to Glory" (2014)
Esta vez la canción suena como a deportes. Para mí se parece el titulo a Bridges of Glory de Yuzu. Es el sonido clasico de Arashi. Las letras son buenas pero no me termina de convencer musicalmente.
Se presentó dos veces en Music Station y en Arashi Ni Shiyagare.
Letras: s-Tnk Música: Susumu Kawaguchi

6- Power of Paradise (2016)
¡Sí! Otra canción encantadora con voces asombrosas (especialmente Ohno). Es el 50º single, así que fue la canción principal, el primer single hecho para una canción olímpica. Tienen dos b-side, también agradables.
Se realizó en Music Station, Music Day y Vs Arashi. Tiene su propio Pv y esta vez haciendo.
Lo peor fue la fecha de lanzamiento, se oficializó en septiembre y los juegos olímpicos de Río se terminaron para el 10 de agosto.
Letras: paddy Música: nobby, ha-j
Aparte de esta recopilacion, me queda como un pensamiento rondadando... Para Tokyo 2020 faltan 3 años, pero en 2018 estan los JJOO de invierno en Korea y en 2019 son los 20 años del debut de Arashi. Son muchos eventos importantes para Arashi, especialmente para lograr cosas tendientes a ser la imagen del pop japonés.
¿Llegaran a estar en Tokyo 2020?
(
English Text
Collapse
)

The last VsA have the performance of the last single "I'll be there", in that moment I realized that I haven´t done a post about their music in quite a long time... what a shame!
This time, the post has an special edition...
Olympics...
In the net different companies has been doing polls about artists who have to perform in Tokyo 2020.
Arashi have done several songs for the Olympic NTV coverage since Sho is involved.
1- Hero (2004)
Was the double A side single, "Hitomi no Naka no Galaxy/Hero" for nino's dorama. Have his own PV. The lyrics really beutiful, was very touching when they sang it in 24hs Television. The jacket cover were very simple almost awful. From time to time they sing it in some tour, as in 5x10 and Arafes.
credits lyrics: Spin
music: Shin Tanimoto
2- Kaze no Mukō e" (風の向こうへ. 2008)
Another double A side single, It was released with truth. Has his own pv, this time was really cherful, and have a sense for singing right at the Olympic venues. A beautiful melody, good lyrics and a good vocals. Was sang in 5x10 concert.
Credits: Shinya Tada (多田慎也), Sho Sakurai
Music: Pippi Svensson, Anders Dannvik.
3- "Yurase, Ima o" (揺らせ、今を 2010).
For vancouver Olympics was the third song for NTV, in 2006 Sakurai didn't do a coverage, was his first year in NTV an only was studio coverage.
So, it´s more childish image, like in the beginings of Arashi. The lyrics are motivational but personally I don't feel it like an sports related song or fiting in the olympic theme.
Was released like b-side of the single "troublemaker". Was performed in Music station without Sakurai (he was in Canada). The song only was performed this time, and hasn't PV. In the radio show of MJ, was played the full version.
lyrics: 100+ music: 100+
4- Akashi (証 2012).
Really I loved! The lyrics, the armonies, ahhh chorus!. For it fits perfectly, and has the strength and sound to be a song for a movie or a drama.
The song was included in the album Popcorn, doesn't have PV. Was performed two times in Ichiban Song Show and Music Station (with wild at heart)
Lyrics: QQ
Music: QQ
In 2013 the city of Buenos Aires, the IOC chose Tokyo as the venue for the 2020 Olympics.
5- "Road to Glory" (2014)
This time the song sounds like sports. For me it's seams bridges of glory by Yuzu. It is the classic sound of Arashi. The lyrics are good but I do not finish convincing musically.
Was performed twice in Music Station and in Arashi Ni Shiyagare.
Lyrics: s-Tnk
Music:Susumu Kawaguchi
6- Power of the paradise (2016)
Yeah! Another cherful song with amazing vocals. It´s the 50th single, so was the main song, the first single made for a Olympic song. Have two b-sides, also enjoyable.
Was performed in Music Station, Music Day and Vs Arashi. Has his own Pv and this time making.
The worst was the release date, was official relased on September and the Rio olimpics was finished by august 10th.
Lyrics: paddy
Music: nobby, ha-j
Aside from this compilation, I still have a I have a recurring thought ... For Tokyo 2020 there are 3 years to go, but in 2018 there are the winter Olympics in Korea and in 2019 they are the 20 years of Arashi's debut. There are many important events for Arashi, especially to accomplish things tending to be the image of Japanese pop.
Will they be in Tokyo 2020?
Current Location:

Tokyo

Current Mood:

optimistic

Current Music:

Akashi
(
Español + Screencaps
Collapse
)
Bueno, tenemos la 2 ª hs sp, ¿No es gracioso como la primera hora, pero al menos era interesante.
3er invitado: Erika Sawajiri.
Es como Nino mc en la temporada AnS 2014, así que hablan de ella. Lo siento, pero para mí no era interesante en absoluto. Ella es una buena actriz y co-protagonizada con Aiba, pero no tengo un buen feeling sobre ella.

4º Invitado: Ohno Corner. Gen Hoshino.
Me esperaba que hacer un collab cantando, o bailar koi. Pero al menos intenta divertirse, lo más interesante fue el fracaso de Ohno en el entrenamiento de los perros.

5º Invitado: Ryoko Yonekura
Ahhh, eso fue divertido !. Ella es un invitado regular de los tiempos de Shukudai kun. Siempre es divertido con sus expresiones. Tengo algunos problemas con el personal de producción de AnS ¿Podrían cuidar de la escenografía? Ryoko podría tener una lesión con el agujero en el suelo.
Y eso fueron las 2 horas.
6º invitado: Nino corner. Sara Takahashi.
Ella es la campeona del mundo de salto de esquí con sólo 20 años. Sakurai la ha entrevistado dos veces. Ella era muy divertida como todos los atletas invitados en los espectáculos de Arashi. Ah, Nino nos perdimos este lado de ti! Una vez más, debe ver! Fue uno de los segmentos más largos de este SP.
Último invitado: Yuzu! En la esquina de Aiba
¡Yo amo sus voces! Bridges of Glory fue mi primera canción de ellos. Aiba me hizo llorar. Extraño verlo tocar la armónica, y los miembros de Arashi también. El segmento era raro, Aiba dijo que Arashi no tiene una canción que describa las personalidades y las refleje. Me hizo pensar mucho.
(Todos los Gif son mios)
(
English text
Collapse
)
Well, we have the 2nd hs sp, Isn't that funny like the first hour, but at least was interesting.
3rd guest: Erika Sawajiri.
It´s like Nino mc in AnS 2014 season, so they talk about her. Sorry but for me wasn't interesting at all. She is a good actress and co- starred with Aiba, but I don´t have the good felling about her.
4th Guest: Ohno corner. Gen Hoshino.
I was expecting they do a collab singing, or dancing koi. But at least tries to have fun, the more interesting was the Ohno failure in dogs training.
5th Guest: Ryoko Yonekura
ahhh, that was fun!. She is a regular guest from the times of Shukudai kun. Always is fun with her expresions. I have some troubles with production staff of AnS Could you take care of the Scenography? Ryoko could have an injure with the hole in the floor.
And that was the 2 hour.
6th guest: Nino corner Sara Takahashi.
She is the world champion for ski jumping with only 20 years. Sakurai has interview her two times. She was really funny like all the guest athletes in Arashi shows. Ah, Nino we missed this side of you! Again, must watch! It was one of the longest segments in this SP.
Last Guest: Yuzu! in Aiba corner
I looove their voices! Bridges of glory was my first song of them. Aiba made me cry. I miss his harmonica skills, and Arashi members too. The segment was weird, Aiba said Arashi doesn't have a song who describes the personalities and reflect them. Made me think a lot.

(Again the Gif are all mine)
Current Location:

Kokoritsu

Current Mood:

nostalgic

Current Music:

Sketch
(
Español + Fotos
Collapse
)

En primer lugar: En el fandom muchas comunidades hacen una revisión de los shows, e incluso algunos tienen el video raw / subbed, esta vez no voy a hacer un repaso, los japoneses lo llaman a esto "impresiones" ... así que con cuidado porque es mi opinión personal

Finalmente, obtuvimos el especial ANS, fueron promocionados en la mayoría de los programas de NTV (por Nino), y tuvieron promoción especial en las calles de Tokio.
Por lo tanto, creo que Arashi no tiene un muy especial en casi un año, me refiero a un "Especial" no 2 programas pegados juntos.

La televisión japonesa siempre tiene más invitados que los nesesarios ... Son divertidos, pero esta vez Ryo Kato, Takashi Yoshimura y Asako Ito no tenían mucha presencia, tienen algunos comentarios pero nada importante.
Invitado del 1er segmento: Kame y Yamapi. Era la primera vez de Yamashita en AnS.
Tenemos un montón de diversión en This is MJ. Como de costumbre el desafío de la escena de acción, y la cocina más: un sonriente y divertido Jun. Matsujun parece disfrutar como un niño de 16 años con Yamapi y Kame. (Raro porque no le pasa con todos sus Kohai, Yamapi cuenta como kohai?)

Invitado del 2º segmento: Imoto Ayako.
Esta es una de mis comediantes favoritas en Japón y un gran atleta no profesional-
Volviendo a Elsa Sakurai, que cada vez que sale encuentra una tormenta de nieve, planeaban escalar el monte Kyushouzan y han tenido que retirarse debido al clima. Estaban cerca de la casa de los padres de Ayako, ella presenta Sho como "mi novio", y su papá muestra todas las cosas que colecciona con la cara de Imoto.
Eran graciosos verlo jugar, como en el tiempo del hitmitsu o shukudai-kun.

Esa fue la primera hora.
(si, el post va en 2 partes... es muy largo y hace una semana que esta en draft todo por hacer los gif a mano)
(
English Text
Collapse
)

First of all: In the fandom a lot of communities does a review of the shows, and even some has the raw/ subbed video, this time I'M NOT GOING TO DO A REVIEW, japanese called it "impressions"... so beware it's my personal opinion
Finaly we get the ANS special, were high promoted in most of the variety shows from NTV (by Nino), and have an lively street promotion in Tokyo.
So, I think Arashi doesn't have a really special in almost a year, I mean a "Special" not 2 programs sticked together.
Japanese TV always has more guest more than nesesary ones... They are funny but this time Ryo Kato, Takashi Yoshimura and Asako Ito weren´t to much presence, they have some commentaries but nothing important.
Guest of the 1st segment: Kame and Yamapi. It was the first time of Yamashita in AnS.
We have alot of fun in MJ corner. As usual the action shooting challenge, and the cooking time plus: an smilling and playfull Jun. Matsujun seems enjoyed like a 16ys boy with Yamapi and Kame.
Guest of 2nd segment: Imoto Ayako.
This is one my favorite female comediants in Japan and a great pro atlete
Retourning to Elsa Sakurai, who every single time he goes out finds a snow storm, they planned to climb Kyushouzan mount and have'd to withdrawl due the clime. They were close to Ayako Parents's house, She introduces Sho like "my boyfriend", and her dad shows all the goods with Imoto face.
Were funny to see him play, like hitmitsu or shukudai-kun era.

that's was the first hour.
(Yes, the gif are mine, It´s last more than 4 days in draft)
Current Location:

Tottori- Ken

Current Mood:

cheerful

Current Music:

Energy Song
(
Español
Collapse
)

Es bastante raro pero ya pasaron 2 semanas sin VsA y AnS.
Entonces se puede ponerse al corriente con los shows individuales y tambien con los doramas y peliculas de Arashi.

Entonces me puse a mirar Ninosan: algunos episodios son buenos y algunos tienen un humor japones que mayormente no se entiende en la cultura occidental. El episodio de esta semana es continuación del de la semana anterior sobre frases para quedar bien con distinta gente como jefes, vecinos etc. Como en el anterior programa ganó Kyoko Hamaguchi esta semana lo ganó Nino.
Ayer se transmitió un SP "mujeres que odian a otras mujeres" sobre comportamientos de las mujeres japonesas incluso reprobales para las propias japonesas. El mismo concpeto tuvieron dos programas en dic. 2016. Hablaron una hora sobre el tema!. El invitado fue Kame.
Despues Tensai: Un SP de Aiba y Nino donde gana la faccion que le gustan los perros.
Tokio Dash SP: Nino fué a promocionar el AnS. La verdad no hizo mucho dió un par de opiniones sentado en un costado. Para promocionar AnS Aiba y Satoshi hicieron un desafio para itteQ sobre un globo (dura menos de un minuto pero es suficiente)
El mismo día hubo otra aparición de Nino en un show "The most useful school in the world", él aprendio sobre una buena postura para estudiar, algunos ejercicios para la espalda y una abuela que no sabia quien era Nino.
Vi un poco de The Yakai sin duda la estrella es Kame... me gusto que reconociera a los sempai de SMAP, que lo veo mas distante a Sho.... (se ve que se tiene mucha estima como para hablar con Kimutaku).
Aiba manabu Y Gutto Sports (Daiya Seto) estuvieron como siempre interesantes


Todo está en sitios de streaming, asi que esta todo disponible.

Lo mas interesante es que Nino apareció como invitado especial en otros programas... Todo para promocionar solo el AnS.
(
English
Collapse
)

It's quite rare, but we have a 2 weeks without AnS and VsA,
We have a good time for watch individuals shows and some special even catch up with arashi dorama and arashi movies.
Homework can wait!
I was watching NinoSan: he has some interesting episodes, some are so much japanese humour (not all occidental understands, me either) The episode this week is continuation of the previous week on phrases to look good with different people like bosses, neighbors, etc. As in the previous program won Kyoko Hamaguchi this week won Nino.
Yesterday 9/10 was aired an SP, called woman who hates another woman. He has the same concept in december and was funny.
They talked about an hour! The guest is Kame (so was a wonderful Kazu- chan combi).
Then Tensai! again aiba and nino in a sp. The dog faction wins.
Tokio Dash SP: Kazu chan doing a guest appeareance to promote AnS. To promote AnS Aiba and Satoshi made a challenge for itteQ on a balloon (lasts less than a minute but is enough).
Another Guest appearance of Nino in the same day was in "The most useful school in the world", he learn about good posture for studying, some exercise for the back and a funny granny who doesn't know who is Nino.
I saw a bit of The Yakai no doubt the star is Kame ... I liked that they recognized sempai SMAP, I see more distant Sho .... (it seems that you have a lot of self esteem to talk to Kimutaku) .
Aiba manabu And Gutto Sports (Daiya Seto) were as always interesting
All in straming sites, so you can watching it.
It's been an Nino weak special.
Current Mood:

distressed

Current Music:

Fukkatsu Love
I have to say something about new TOS.
I have numerous account in different social network, all that networks didn't blongs to my country. Even more, someones didn't have an office in my country.
I'm a profesional in this matter, annalizing the contract the new TOS are quite simmilar with all social networks agreements.
USA recogniced follow and investigated some network interaction in foregein countries without the citizenship knowledge.
I´m definitly not broked crimmimal law, but these gov were investigating me.
Most of the fandom are concerned about the security of the files they upload, like FB, YT, Vimeo, Blogger or such have restrictions by the ownwer of the copyright and for IP location issues.
For me, nothing changes.
Maybe could be a concern for seeing the word "Russia" in all of it, but it's will be the same if the TOS were imposed from UK?
I´m more concerned about japanese companies than russian ones.
I'm still in LJ as longer as famdom stay in LJ.
(
Español
Collapse
)


Para todos los que son de latinoamerica. La mayoria de estos acuerdos afectan lo mismo que los acuerdos de FB o YT. Además nada puede ser mas que el propio estados unidos cuando reconoció la actividad de seguimiento e investigacion de la actividad en internet de personas de latinoamerica y europa.
Seguramente todo el miedo viene por la palabra Russia. Pero ¿todos toman igualemente el riesgo cuando el acuerdo vienen de lugares como UK o USA?. Realmente estoy más preocupada por los japoneses y los estadounidenses que por las normas de copyright rusas.

Voy a seguir en LJ tanto como las comunidades de fan sigan en Lj.
Para mi no hay ningun cambio adicional.
Current Mood:

calm

Current Music:

Daremo Shirenai